From the pioneer days of the old American West, 8 AAA quality models with detailed 4K PBR materials. This pack is perfect for fans and developers of the Western genre.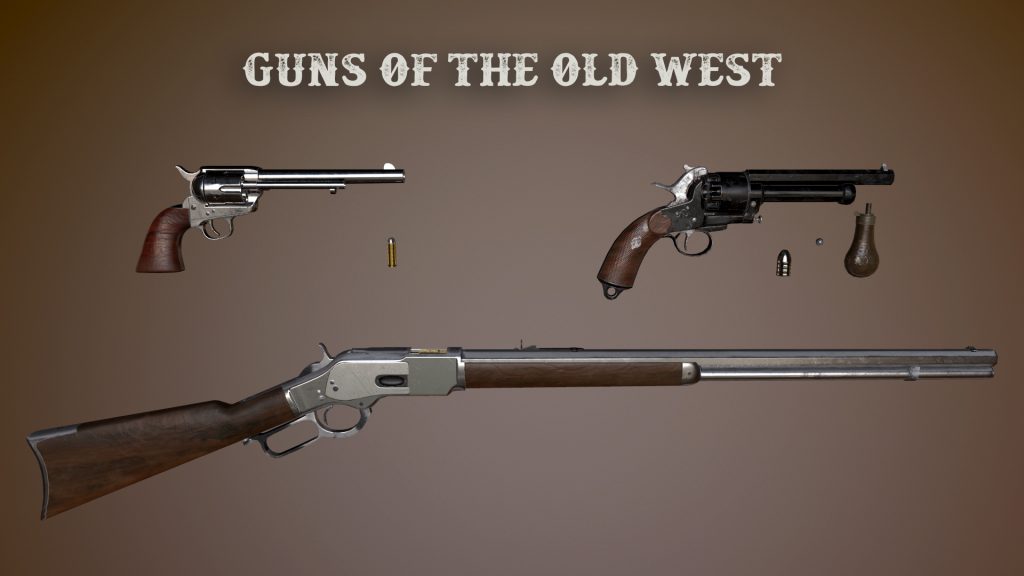 Three high quality gun models, with ammo and accessories, from the American Old West. The pack includes a Lever Action Rifle reputedly the gun that 'won the West', a Single Action Army Revolver which represents the classic 'Six-shooter', and a Pin Firing Pistol a gun favoured by the Confederate army, a hybrid 'missing link' between the old black powder muzzle-loaded weapons and modern breech-loading guns. The Pin Firing Pistol holds 9 shots with a powerful one shot under barrel.
A .45 cartridge is included (separate bullet and casing) which is compatible with the Lever Action Rifle and the Army Revolver. The pack also comes with the shot and Millie bullet for the Pin Firing Pistol as well as a Powder Flask for reloading.
The models have been carefully crafted for use in the latest first or third person games with 4K PBR textures, and a modest polygon count. They are rigged, animated and ready to be dropped into your UE4 project, and can be fully customized to suit your needs.
Technical Details
8 AAA quality assets:
Lever Action Rifle (3,110 Tris / 3,348 Verts)
Pin Firing Pistol (6,494 Tris / 6,384 Verts)
Single Action Army Revolver (6,362 Tris / 5,954 Verts)
Powder Flask (792 Tris / 662 Verts)
Millie Bullet (168 Tris / 136 Verts)
.45 Casing (84 Tris / 89 Verts)
.45 Bullet (168 Tris / 136 Verts)
Shot (48 Tris / 31 Verts)
15 Animation states inc; cocking, reloading and firing for each weapon.
4K PBR Textures including: Albedo, Metalness, Roughness, Normal Map, and Ambient Occlusion, for all meshes.